Rascasse 340mm Alcantara
for 340 in Raid
This Raid steering wheel will fit any P97/P87/P96/P86/P93/P64.
Each steering wheel comes with a full size airbag and with the use of the correct adaptor it can be installed without any problem.
All the necessary hardware is included.
It is also 100% reversible to stock when necessary.

This adaptor, also called "hub" is the connection between the steering wheel and the steering column of your car.

Although the Raid makes the steering wheel sit closer to the driver, an extra spacer can be installed to bring the steering wheel even closer to the driver.

There is no model name printed on the airbag.
Price: 585 Euro.

Convert to US Dollar
High quality aftermarket steering wheels that come with a full size airbag. The given size is the outer diameter of the steering wheel.
A typical factory steering wheel is 380mm.
Raid steering wheels can be fitted in other cars too.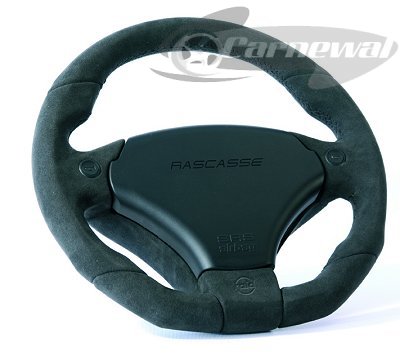 Carnewal Part Number: 710531