981 Carnewal GT Exhaust reviews and testimonials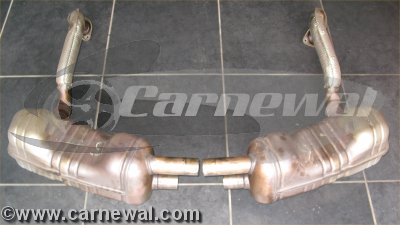 Reported by Burton; July 2014 :

Just got mine this morning installed at Carnewal (Cayman 981 with PDK) and it sounds great, no drone at all...not at any rev, even when I'm doing 50 km p/hr in 5th gear.......great sound, not too much when cruising, but fantatic when your revvng up.
When I'm cruising at 120 hardly any difference with the stock exhaust.
Well done Gert, just done a 150 km, at the start some drone at 1800 revs, but after a 100 km that was gone :-) just big smiles .
---
Posted by Sam on Planet9, July 2014 :

Just installed the Carnewal exhaust on my 981 CS and it´s really a perfect tuned exhaust.
Absolutely no drone. Just more "Porsche sound" when you accelerate.

---
Posted by Wwhite on Planet9, January 2015 :

Hey Guys I recently got my Carnewal GT exhaust modification back from Justin at Cantrell Motor Sports. The process was very easy and fast. As soon as I removed the mufflers and packaged them, I sent them to Justin. As soon as he received the the mufflers, he made the modifications and put them back on the delivery truck the same day. My car was only down for a week. Unfortunately, my RS60 exhaust tips had not arrived yet, so I had to remove the mufflers twice. That is OK as I was very anxious to hear how it sounded. Even with the stock tips, it made a huge difference in the quality of the sound and there is no resonance or drone. I have the RS60 installed now. Not sure I can tell much difference in the sound, but it sure does look better. To me, it was worth every penny. When driving around slow speeds, the sound is not too loud, but when you jump on it, there is a noticeable difference. I mean it sounds like it ought to. The factory option of the Sport Exhausticon to add to my sport button would have been in the neighborhood of $4500 or more. You can't beat this for the price and I don't need to stinkin' button to make the exhaust sound good. It just sounds good all the time. The sports mode button still does whatever it does to the throttle and that's fine with me, although I am not sure why Porsche even has a button for this. The throttle thing should be there all the time too. A big thanks goes out to Justin at Cantrell Motors Sports and his crew that did the job. I highly recommend this. Removing and installing the exhaust is not at all that hard if you are good with tools at all. There is a video someplace here that shows you how to do it.

---
Posted by RADONCulous on Planet9, January 2016 :

Porsche Carnewal Impression with work at Cantrell (driving for 4 months) for 981 BS
I've been seeing a lot of posts about exhaust options so I figured I'd write about my experience. I initially bought a "drone free" exhaust from a site sponsor; however, that system was quickly returned due to excess drone. I debated options for nearly a year and didn't really love the anemic sound of my Boxster S. I should note that I have PDKicon. Finally, I decided to go with a Carnewal exhaust modification performed by Cantrell Motorsport in WA.
I use my car as a daily driver so I purchased an OEM exhaust off of eBay. I had that system shipped to Cantrell for the modification. Thereafter, the exhaust was returned to me and I installed the exhaust on my own with another forum member. When looking at the exhaust, aesthetically speaking it appeared to be the exact same to my stock system. We could not see any clear welds or modifications. I took photos, but they are on my laptop somewhere--I'll add them after, but that being said we were a little suspicious at first. However, after the install it became very clear that there was a difference. Also there are no performance gains endorsed and the car drives similarly.I will provide both quantitative and qualitative impressions:
1. Starting the car:
There is a clear difference--car sounds 50% louder. The car has a deeper / more aggressive tone. Not too loud like some of the after market exhausts that sound 2-3x as loud, but noticeably different. You may awake your spouse, but not your neighbors/
2. Sport button off:
During normal driving the car is about the same volume / tone. During spirited driving (>4k) the car is definitely louder and has a deeper / raw tone. The car sounds as it should. It's really spot on. I was told the exhaust has no drone and I agree--I've never regretted this exhaust whereas my last aftermarket exhaust had terrible drone from 1800-2200RPM and actually gave me a headache. Overall about 25% louder during regular driving and about 50% louder during spirited driving with sport button on.
3. Sport button on:
I feel that the sport button actually acts like the PSE control in the sense that the car is noticeably louder and has more of an aggressive tone overall. When sitting in the car at idle, hitting the sport button will slightly increase the revs on the tach, but you'll also hear a slightly deeper sound (most appreciated with windows and top down). Again this is being very particular and listening for it; however, during normal driving I would say that its about 50% louder and similar to the loudness of PSE during spirited driving--you also get a burble here and there on acceleration.
The BEST part is when slowing down and coasting to a stop, you get a lot of burbles. I compared this to my buddy's Manual CGTS w PSE (note that its a Cayman, not Boxster and its a manual) and it seems that I would be at about 50-75% of the volume during slowing down and 50% of the amount of burbles--which is still quite a bit. Overall, I think this is a great modification to the car for those that want a more aggressive and practical exhaust for their daily driver. This exhaust doesn't have the scream that some of the aftermarket exhausts offer, but then again there isn't noticeable drone. If you are not content with the mellow sound of the stock exhaust, and debating to upgrade to any exhaust at all--this is the one for you.
I would highly recommend this exhaust. Let me know if anyone needs more information.

---
Posted by N.G. on Facebook, January 2019 :

Thanks for the great exhaust on my 981; I could feel the difference immediately (much quicker to rev) and after an exhausting road trip of over 1200kms the exhaust note has continued to get better. The car now gurgles and pops on throttle offs, is still a pleasure cruising with no annoying drone and howls on full throttle. Very pleased with my purchase and glad I drove to have it fitted with you.

---