Schroth Profi II-6 Hans Enduro Harness
for 996 & 997 & 997GT3 & 987 in Interior & Upgrades & Seats
ENDURO Profi II-6H
6-Point professional restraint for quick driver changes; T-bar version; 3" shoulder belt system; 2" lap belts
Price: 325 Euro.

Convert to US Dollar
Success in endurance racing depends on durability, quality and speed (quick driver changes). The Enduro-Belt is adds to SCHROTH's top-of-the-line racing harness range.
The newly designed adjuster technology ZIP Adjuster have been integrated into the lap belt buckle attachments to optimize the position of the adjusters for optimal adjustment. The design of the new ZIP Adjusters (as found in our SlipStop harnesses) allows for exceptional ease of adjustment (tightening) and release for faster and smoother driver changes. The same Zip Adjuster design can be found the ?Enduro? shoulder belts also! Available in black, also available with 2/3? shoulder belt combination (for HANS use only)!

Simple and Easy to adjust ZIP Adjusters integrated into the lap belt latches (1)
ZIP Adjusters in the shoulder belts for the best fitting harness (2)
Extra large, easy to grab hand loops on the shoulder belts (4)
Clearly marked lap belt release straps (5)
Sewn in bungee loops on the shoulder belts (6)
Patented RFR lightweight Buckle (7)
2inch (50mm) lap belts for unmatched comfort (8)
For Touring Car and Sports Car applications!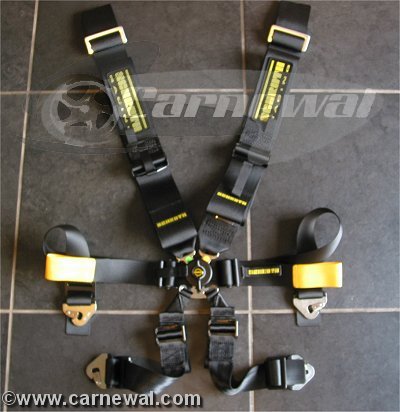 Carnewal Part Number: p094