987-1 Carnewal GT Exhaust
for 987 in Exhaust
The GT exhaust is a reworked original exhaust, modified in our workshop. It looks just like stock on the outside but the internals are changed to a better breathing, less restrictive exhaust.
The result is a louder and deeper sound with no reasonance.
On the cars with Tip gearbox, there is no droning nor resonance between 2200 and 3000rpm.
This exhaust does not trigger check engine lights and is not giving problems with emission checks during the yearly technical inspections like MOT, APK.

The GT exhaust is sold on a core exchange base :

Option 1 : We ship you a "new" GT exhaust, that matches the age and mileage of your original exhaust and within 2 weeks, you return your original exhaust. In that case we add a core charge that is refunded when you ship back your exhaust.
Option 2 : You come to our workshop and we modify your exhaust to a GT exhaust. It takes 2 hrs and it no problem to wait here .
Option 3 : Send us your exhaust and we modify it and ship it back out.


Price: 545 Euro (shipping and VAT included).

Convert to US Dollar
The installation of the GT exhaust does not cause "Check Engine Lights" nor gives you problems with emission checks.
There is an increase of +5 to 7HP.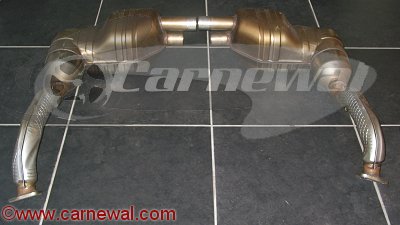 Carnewal Part Number: p87007
Related To This Item