987-2 Carnewal GT Exhaust
for 987 in Exhaust
The Carnewal GT exhaust is a reworked original exhaust, modified in our workshop.
Everything looks 100% orginal on the outside but the internals are changed to a better flowing, less restrictive exhaust.
The result is a louder and sportier sound with no reasonance.

The GT exhaust is sold on a core exchange base :

Option 1 : We ship you a "new" GT exhaust, that matches the age and mileage of your original exhaust and within 2 weeks, you return your original exhaust. In that case we add a core charge that is refunded when you ship back your exhaust.
Option 2 : You come to our workshop and we exchange your exhaust with a GT exhaust. It takes 1 to 1.5 hours and it no problem to wait here or use our loaner car.

We can also modify your exhaust.
Price: 495 Euro (shipping and VAT included).

Convert to US Dollar
The original tail pipe needs to be used again.
Will fit any 987-2.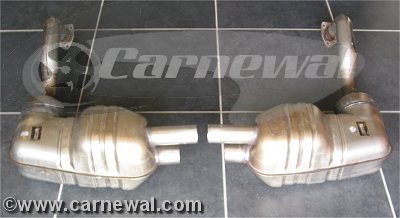 Carnewal Part Number: p87016