Shark Werks Muffler Bypass System
for 997GT3 & 991GT3 in Exhaust
The Shark Werks GT3/GT3Rennsport Muffler Bypass System which has been designed, developed and tested on the Shark Werks 2007 997GT3Rennsport (ZKERMIT), dramatically improves the sound of any 997 GT3 or GT3RS, including the 2010+ MkII models. There is no noticeable additional cabin drone or resonance. With the Sport Chrono and factory exhaust valves still in place you can drive with our system turned "on" for a more aggressive sound or off for daily driving with the flick of the factory sport button. Uncorking the car and listening to her head down the front straight of your favorite track at 8400rpms is something we highly recommend you do.
Price: 1595 Euro.

Convert to US Dollar
Features
- Designed in-house and manufactured in Northern California
- Improved, more aggressive sporty sound (see videos below)
- Does not interfere with SMOG emissions and 50 state legal
- Factory headers, catalysts side mufflers and valves retained
- Direct bolt-on replacing factory center muffler
- Compatible with either the stock or aftermarket tips
- Fits the 997 mk1 or mk2 GT3 or GT3Rennsport
- High-gloss Electro-polish finish
- Use your sport button to divert routing to switch from flowing through the side mufflers to a direct bypassed flow
- Use the non-sport mode to allow flow through the side mufflers for minimal additional interior noise and highway or daily driving.
- Real 7,25Kg /16lbs weight savings.
- 18 gauge T304 tungsten inert gas welded stainless steel.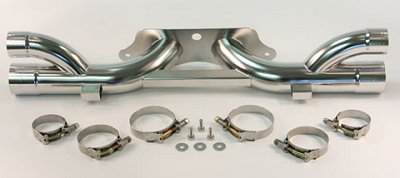 Carnewal Part Number: p97105
Related To This Item