Turbo Bumper Package For 993 C2 or C4
for 993 in Exterior,Aerokit
Everything you need to modify your US narrow body 993 C2 or C4 into the look of Row 993 Turbo and get rid of the bumperettes.

This set contains :
Factory Euro TT front bumper cover with grill.
Factory Euro narrow body rear bumper cover.
Left and right Euro clear or amber turn signals for the front bumper. Specify on order.
New bumper seals and rivets for the front bumper.

This pacakge will only fit the narrow body 993.

Price: 4595 Euro (shipping included).

Convert to US Dollar
These are the factory bumper covers and no fiberglass imitation.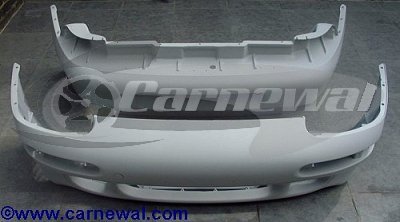 Carnewal Part Number: p93065
Related To This Item