RoW Sport Suspension w/ Bilstein B8 Shocks for C4/C4S
for 993 in Suspension
This kit comes with all the parts needed for this conversion:
Bilstein B8 shocks, RoW (=Euro) M030 springs for front and rear, M030 stabilizer bars, drop links, bolts and bushes.
For all '94 to '98 cars with the standard suspension.

Lowers the car RoW M030 height.


Price: 1950 Euro (shipping included).

Convert to US Dollar
Included in the M030 kit :
Bilstein B8 shocks for front and rear.
The rear Bilstein shocks come with new rear drop links.
Original factory parts :
- RoW M030 springs.
- 22 mm stabilizer bar for the front
- 2x 22mm rubber bushing for the front stabilizer
- 20 mm stabilizer bar for the rear.
- 2x 20mm rubber bushing for the rear stabilizer.

Installation instructions available.
Stabilizers are not shown in the picture.

Bilstein shocks are covered by a 2 year worldwide unlimited warranty.
Email us if you have any questions about unlimited or the US limited lifetime warranty.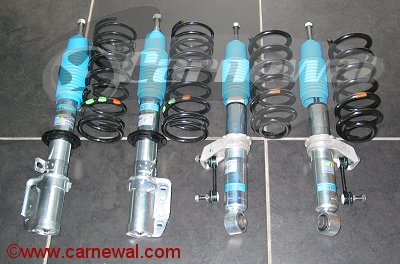 Carnewal Part Number: p93090-B8-C4
Related To This Item