Bilstein B8 shocks with M033 Springs for 993 with automatic gearbox.
for 993 in Suspension
This package comes with Bilstein B8 shocks and M033 factory lowering springs. For every '94 to '98 993.

The Bilstein B8 shocks have the same damping as the Bilstein B6 but the stroke of the pistons is 20mm shorter. Due to the shorter rebound, it makes the Bilstein B8 an excellent match for the use with RoW M030 and M033 spring as it eliminates the "floating spring" issue which you will have when you combine B6 and M033 springs.

Lowers a USA car 25-30mm front and rear.
Price: 1430 Euro (shipping included).

Convert to US Dollar
Includes:
Bilstein B8 shocks for front and rear.
Front and rear M033 Lowering springs.

This setup is used with the standard stabilizer bars.

What's the difference between the M033 and the M030 springs?
The M030 is a sport suspension. The M030 springs will make the ride lower and sportier while the M033 springs will lower the car the same amount but it will remain comfortable just like the stock springs.

Bilstein shocks are covered by a 2 year worldwide unlimited warranty.
Email us if you have any questions about unlimited or the US limited lifetime warranty.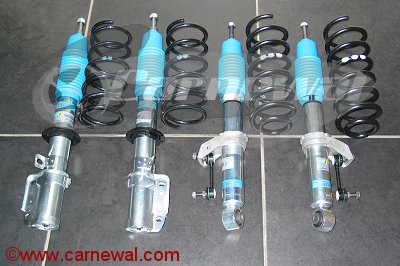 Carnewal Part Number: p93105-tip