Big Red Brake Package.
for 993 in Upgrades & Maintenance
This package comes with every part needed to change the brakes of the C2 and C4 into the brakes of the Turbo.
Comes with the front and rear calipers, disks, brake pads, warning contacts and other hardware that is needed for this conversion.
The front and rear rotors have a diameter of 322mm.
The rear calipers in the kit are the ones from the 993 Rennsport with the larger pistons.

Price: 5795 Euro (shipping included).

Convert to US Dollar
Replaces the original brake parts.
Assembled from factory parts.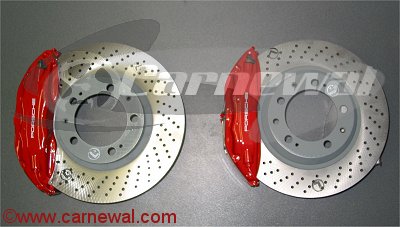 Carnewal Part Number: p93133