RSR Mufflers - Made from New Mufflers
for 993 in Exhaust
RSR mufflers are internally modified original mufflers.

The original mufflers are opened, the internals are modified and closed again by TIG = Stainless steel welding.
On the outside, they look just like stock mufflers.
This modification is done in our shop. The result is a fantastic sound that is louder and deeper than stock but not disturbing and with no resonance.

These RSR mufflers are made from new and original mufflers.
The RSR's come with new bolts and nuts.


Price: 1295 Euro/set.

Convert to US Dollar
Made from new factory mufflers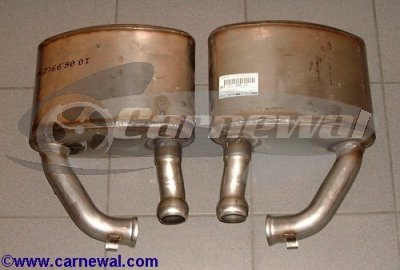 Carnewal Part Number: p93136
Related To This Item