Koni FSD Shocks with M033 Springs for 993 with manual gearbox.
for 993 in Suspension
This is a package with 4 shocks and 4 springs.
The Koni FSD shocks have an automatic damping.
The springs are the ones from the factory "M033 lowered suspension" .
The M033 springs are linear and offer a comfortable ride at all time.
The Koni FSD and M033 springs offer a nice comfortable ride.

For every 993 C2, C4, C2S, C4S with manual gearbox.
Lowers the car 30mm from US stock height.
Price: 1140 Euro (shipping included).

Convert to US Dollar
The front are threaded, the rear shocks are not adjustable in height.
The M033 springs are factory parts.
Koni shocks are covered by a 2 year worldwide unlimited warranty.

Email us if you have any questions about unlimited or the USA limited lifetime warranty.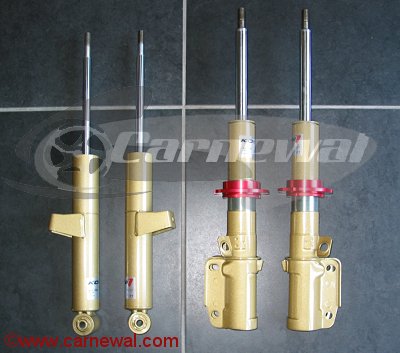 Carnewal Part Number: p93173-man