Stainless Steel Brake Lines
for 993 & 964 & 911 & 997 & 996 & 991 & 987 & 986 in Maintenance & Upgrades
When you step on the brakes with normal rubber brake hoses they first start to expand before you achieve
maximum stopping power, resulting in a spongy feel.
Stainless Steel brake hoses do not expand, therefore eliminating the spongy feel and providing you with a solid brake pedal and maximum stopping power.

While replacing the brake hoses, the brake fluid needs to be replaced.

These brake lines come with TUV approval.
Price: 95 Euro/set.

Convert to US Dollar
Available for every car.

High Quality Aftermarket parts, made in Germany.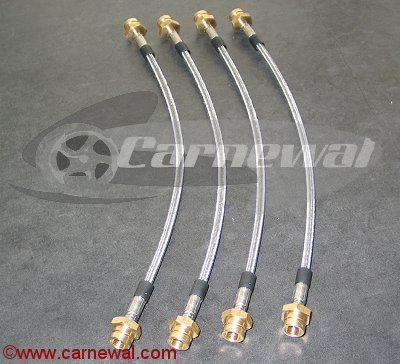 Carnewal Part Number: p069