Turbo RoW Sport Suspension w/ Bilstein B6XT Shocks
for 993Turbo in Suspension
This kit comes with all the parts needed to upgrade the suspension of a USA 993 Turbo into the RoW 993Turbo setup:
Bilstein B6XT shocks for front and rear, the 993 Turbo RoW M030 springs, the 21mm rear M030 Turbo stabilizer bar and rubbber bushes.

Our front B6XT shocks have 30mm extra thread so they allow more lowering than the normal Bilstein B6 shocks.
Lowers the car 10mm (2/5") up to 40mm ( 1"3/5) from standard.
Price: 1745 Euro (shipping included).

Convert to US Dollar
Included in this upgrade kit :
Bilstein B6XT shocks for front and rear.
These front shocks have 30mm extra thread more thread.
993TT RoW M030 springs for front and rear.
Click here to see the front shocks.
21 mm stabilizer bar for the rear
2x 21mm rubber bushing for the rear stabilizer

Do I need Bilstein B6 shocks with extra thread for the M030 springs?
When you would install the normal B6 shocks and the RoW M030 springs, the car will only lower 10-15mm . This because there is not enough thread on the normal front HD/B6 shocks.
With our special made Bilstein B6 shocks that have extra threads, you can set the car at the RoW M030 height or even lower it another 10-15mm which brings the car almost to the ride height of the 993Rennsport.

Installation instructions available.
The rear Turbo springs and stabilizer are not shown in the picture.
Also available without the rear stabilizer.
Email for pricing.

Bilstein shocks are covered by a 2 year worldwide unlimited warranty.
Email us if you have any questions about unlimited or the US limited lifetime warranty.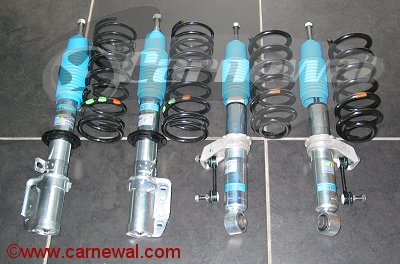 Carnewal Part Number: p93092-B6XT