Bilstein B8 Shocks
for 993 & 993Turbo in Suspension
The Bilstein B8 shocks have the same damping as the Bilstein B6 but the stroke of the pistons is 20mm shorter.
Due to the shorter rebound, it makes the Bilstein B8 an excellent match for the use with RoW M030 and M033 spring as it eliminates the "floating spring" issue.
Bilstein B8 shocks have standard threads and are not extra threaded like the B6XT shocks.
Price: 990 Euro (shipping included).

Convert to US Dollar
Bilstein B8 shocks for front and rear.

Bilstein shocks are covered by a 2 year worldwide unlimited warranty.
Email us if you have any questions about unlimited or the US limited lifetime warranty !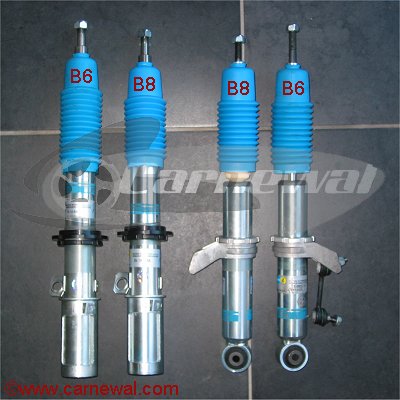 Carnewal Part Number: p93176