Front Protection Bar reviews and testimonials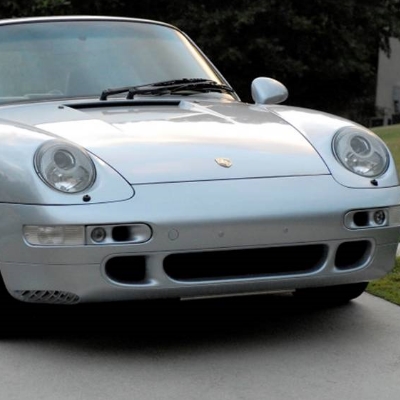 Comments made by Mike McGinty (Switzerland):

The best thing that can be said about the FPB is that it really is cheap (but high-quality) protection for the price.
The increase in speedbumps and gradiented paving here in Switzerland means that cars with scraped fronts are all too common.
Similarly I have seen 1 993 and 1 964 with "crazed" paintwork because their front PU was hit so hard. I have yet to experience the "grinding" sound of the FPB but it has saved expensive repairs on two "kerb kisses" I got on the same day!
It fits in 10 minutes to the original 993 holes - brilliant!
---
Posted on the 993-996 List by Viken B (L.A.) -- Monday, 17 July 2000.

I just installed Gert Carnewal's Front Protection Bar which is designed to protect the bottom of the bumper against scrapes. The bar is extremely well made with stainless steel components and has three easy mounting points.
Installation was a breeze with a total of 10 minutes required.
Another great addition to my car.
---
Comment by David T. (CA)
After few days that I have installed a FPB - I really like it!
My car is really low - I have The Racers Group JRZ suspension (I think 2 inches lower than US version) and I used to scratch the front bumper a lot. Now I scratch only the metal bar (pure thingy :-). Installation was super easy.
---
Posted on the 993-996 List by Todd Campbell (CA)-- Friday, 7 July 2000.

I have one also. Agree completely with this comment.
---
Posted on Rennlist on 07-09-2002 22:24 by Matt V. :
Gert's Front Protection Bar (FPB) would have helped in that scenario. Mine has helped me in numerous situations where you can't quite get that angle pulling in or exiting on inclined surfaces, as well as parking blocks.
---
Posted on Rennlist on 07-10-2002 12:36 by Kevin R.

The FPB is a must, even for cars that are at US-spec height, ("SUV height") like mine. My FPB has a bunch of scrapes on it.
---
Posted on Rennlist on 07-10-2002 01:41 by Vinrey:

Don't spend too much time worrying about that, you can't buy back time, use it to enjoy your Pcar. It may be expensive at times but at least you can pay to have your car fixed to the way it was but what you spend worrying and time has no price tag. Enjoy. I've been through what you have and so have most of us I'm sure. Get Gert's FPB for less worries, it's meant to take the scratches.
---
Posted on Rennlist on 08-30-2002 14:37 by cfdarch:
Gerts bar was designed not to have to drill holes in the car. the e-Bar requirs 2 holes be drilled by you...therefore the longer install time. Gerts bar or not add time to jack up the front Gerts solution is elegant!
---
Posted on Rennlist on 08-30-2002 16:39 by David:

It is a great mod to the car, particularly if you have M030 or an aftermarket suspension/springs. I installed mine at the same time as the PSS-9's and use the protection bar regularly. It is actually a bit worn...oops.
---
Posted on Rennlist on posted 07-08-2002 02:41 by Skip:

I finally got around to installing the FPB that I got from Gert, and it's a great product. Very easy to install, and it looks nice. Thanks Gert! But, I spent a lot more than 10 minutes on it as I ended up detailing the bottom front of the car...
The car had some severe scratches under there, and was resprayed by a PO without any repairs. You can't see that part of the car normally, but I was still shocked as I've never really looked at that part so closely when it was jacked up in the past.
My car had the rubber/metal bar, which is a complete joke. I don't know if this is what Porsche put on or if it was installed later, but it is a piece of junk. Why Porsche didn't include something like the FPB in the first place is a mystery. And why the previous owners never bothered to install something is annoying.
Oh well, it's not worth getting too worked up about as the car is going to the track next weekend...
---
Posted on Rennlist on posted 07-08-2002 02:49 by Terry A.

My "rubbermaid" bar got scraped off in the first year of ownership. I fretted that it had something to do with underside aerodynamics and I might become airborne at moderate speeds. Viken assured me otherwise, and I now have the FPB - a great piece of engineering.
---
Reported on 02-17-2003 by Bob G :

I just wanted to tell you how satisfied I am with the 993 scrape bar.
I received it promptly,it fit perfectly and it has already paid for itself on an unforseen bump.
Thanks for the great service.
---