Sport Exhaust
for 996 in Exhaust
Sport Exhaust for the 3.4L and 3.6L models from '98 to '04 .
Power increase of 10HP.
There are 2 versions available: Standard and Export version
These mufflers are a straight replacement for the original mufflers and can be used with the standard or optional exhaust tips.
Price: 1195 Euro (shipping included).

Convert to US Dollar
Stainless steel.
A great sounding exhaust with no reasonance.
Made by M&M Germany.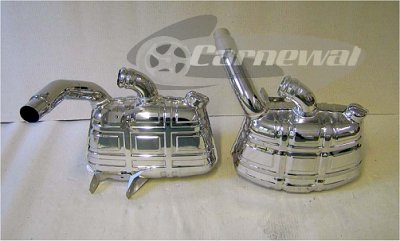 Carnewal Part Number: p96177