Turbo M&M Sport Exhaust
for 996Turbo in Exhaust
Power increase of 15kw (21HP) and a torque increase of 20 Nm
There are 2 versions available:
TUV (sporty) and Export version(Loud)
Includes new exhaust tips.
Price: 2995 Euro (shipping included).

Convert to US Dollar
A great sounding exhaust with no resonance.
Stainless steel, excellent build quality.
Made by M&M Germany.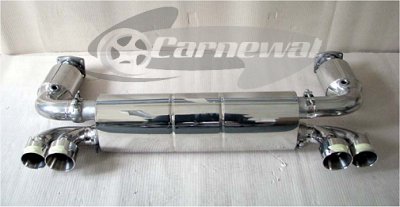 Carnewal Part Number: p96026