997-2 Carnewal GT Exhaust : Made from new side mufflers
for 997 in Exhaust
This is the Carnewal GT exhaust for the 997-2 and is made from brandnew , original mufflers.

These genuine mufflers are modified internally resulting in a louder and deeper sound without reasonance.

These are the left and right exhausts.
The center exhaust is not included.

Ideal for those that already have a center exhaust bypass.
Sold as outright purchase.

Price: 2050 Euro.

Convert to US Dollar
Made from factory parts.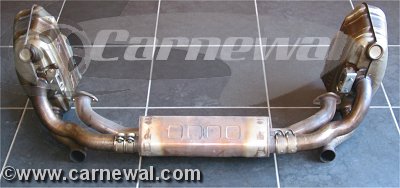 Carnewal Part Number: p97140