Car Cover Outdoor "Future"
for All in Carcovers & General
These are the highest quality car covers available.

Also available:
Indoor car cover
Outdoor car cover "Silver"
Price: 260 Euro (shipping included).

Convert to US Dollar
TECHNICAL FEATURES:

Future, the outdoor carcover is tailor-made and perfectly custom made: thanks to the elastic fabric it follows the finest details of the lines of your car and it cancel the wind effects; Future gives the bodywork total protection against scratches and, at the same time, personalized printing of the original logo helps guarantee a remarkable aesthetic effect.

It is completely water-proof, elastic and breathable, Future has been designed for indoor and outdoor use: the best protection for your car.

This special kind of fabric was born from our enviable experience in automotive industry, thanks to our collaboration with the best car manufacturers in the world.

It comes with a practical bag for storage and transportation.

The future covers are now available in more colors :
Grey
Satin black
Red
Blue
British green
Pearl

Update November 2020 : As from now on, we can no longer supply car covers with a Porsche crest.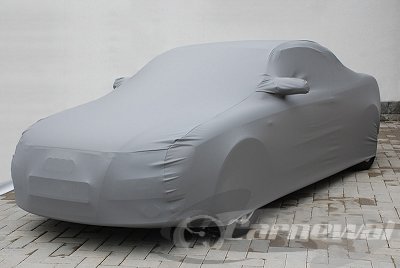 Carnewal Part Number: p080
Related To This Item