Replacement A-arms with new Bushings.
for P64 & P93 & P93Turbo in Suspension
This is a pair of used front A-arms with new replacement bushes.
The A-arms are checked and cleaned .
Comes with a 2 year warranty.
Available for the front suspension A-arms on any P93 or P64.
The A-arms can be delivered with red or black bushes.
Price: 225 Euro/set.

Convert to US Dollar
The core charge is 300 Euro extra and is refunded when you send back your original A-arms.
The A-arms are used original parts.
The A-arm bushes are high quality aftermarket parts.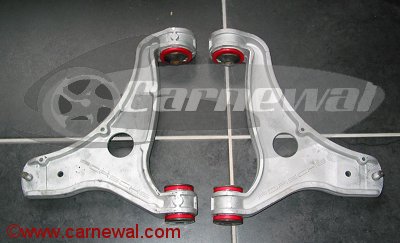 Carnewal Part Number: p93169